SEN @ CAPRICS
Teacher Training
Academy
Get recognized Special Educational Needs courses to enhance your knowledge and employability
What is Special Education?
Children with special needs require special education teachers who are well-trained and aware of the challenges they will face. Special education refers to a teaching process tailored to meet the needs of those students. Working with students with special needs requires specific teaching and training strategies and skills. A description of the most common disabilities encountered in the classroom will be provided in this course, including learning disabilities,
attention deficit hyperactivity disorder, intellectual disabilities, behavioral disorders, and physical disabilities. During this course, you will learn the most important information about each of the disabilities, as well as practical strategies to assist and educate students. This course teaches the basics of special education, including the change in curriculum and the evolution of special education over time.
SEN Teacher Training @ CAPRICS
CAPRICS Special Education Teacher Training Institute guides aspiring teachers. As they pursue the SEN Teachers Training, we assist them in identifying the challenges they may face. In general, candidates who sign up for CAPRICS' special education training can expect a handsome pay package and better job prospects as compared to those who enroll in other training programs. Our Certified teachers are capable of identifying the needs of children with special needs, as well as resolving their challenges quickly. They are capable of ensuring that Special Needs Children develop at a steady pace.
Get Trained for Inclusive Classrooms
Teaching children with special educational needs must be an integral part of the teacher training curriculum.
18%
Of babies are born with
down syndrome
21%
Of children are diagnosed with ADHD and learning Disabilities
19%
Of children have developmental
disability
Courses We Offer @ Caprics
Certification Course
Duration - 1 Month
Practical - 4 hours (1hr x 4days)
Mode - Online
Level - Preliminary
Diploma Course
Duration - 3 Months
Practical - 24 hours (2hrs x 12days)
Location - Chennai
Mode - Online / Offline
Level - Advanced
Advanced Diploma Course
Duration - 6 Months
Internship - 10 hours (2hrs x 5days)
Location - Chennai
Mode - Online / Offline
Level - Expert
Happy Faces of Happy Students
The overall experience has been very satisfying for me. This course was easy to access and understand, as well as follow. All the people I have been in contact with in this institute have been very supportive and helpful. This teaching institute is highly recommended for everyone who is passionate about teaching and is serious about working towards their teaching goals.
– Ms.VijayaLakshmi, Bangalore
Course: Diploma in Special Needs Teacher Training
Teachers
Our online courses are a great way to add value to your teaching career if you wish to enhance your skills and abilities to identify and teach children with special needs.
Educators
The responsibility of principals, educators, and administrators at schools is to facilitate and enhance the professional capacity of teachers to cater to special needs students.
Parents
In many cases, parents of children with special education needs frequently feel isolated and frustrated when traditional parenting advice does not work. Attend our specialized course for help.
Schools
A classroom that fosters inclusion is created when schools provide teachers with SEN courses. Find out more about our School programs and workshops.
Benefits of the SEN Courses
Our special needs teacher training courses are developed by a licensed practitioner with years of experience in teaching and counselling students with special needs. It is an elite course, which requires a high level of dedication from prospective students. It is ideal for parents, teachers in schools, and shadow teachers alike. Assessments & diagnostic tests cannot be done by you as they are strictly the domain of licensed rehab professionals. You will not be able to practice as a licensed special educator upon earning this course certificate.
Developed by licensed practitioners
Guidance from experienced mentors
Founders of Caprics Learning Lab, Mr.Sankara and Mrs.Veena Sundaramurthy are former IT Professionals.  A passion for Early Childhood Education led them to open a preschool. They later started Caprics Learning Lab, which aims to enhance the Pre-Primary Curriculum with enhanced teaching methodologies. Because of the need of the hour during the pandemic, Caprics Learning Lab ventured into the Homeschooling business, and began Caprics Homeschooling. After experiencing an increase in special needs children during the COVID Pandemic and after understanding their needs, the Founder-Directors, with the help of a team of professionals, developed the SEN@Caprics Teacher Training Academy to support these children.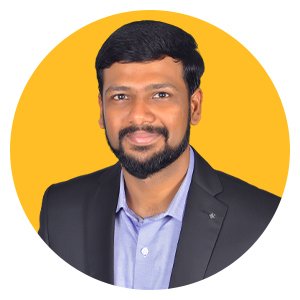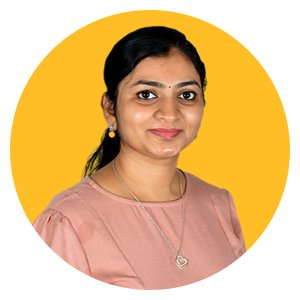 Mrs. Veena Sundaramurthy
Founder
Ruhee Rukshana
Certified Special Educator & Special Education in Autism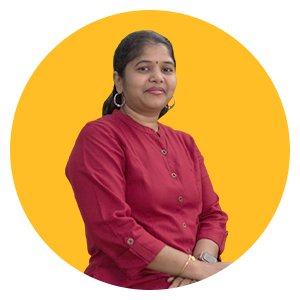 Dr.V.S.Gayathri
Certified Counsellor and an Educational Therapist.
CAPRICS Is Proud To Be
Institutional Partner / Member / Associate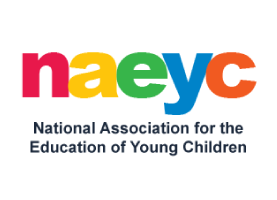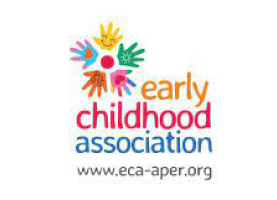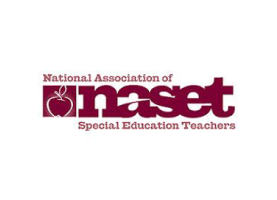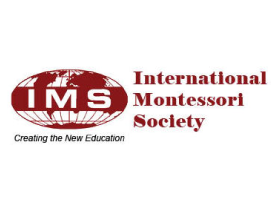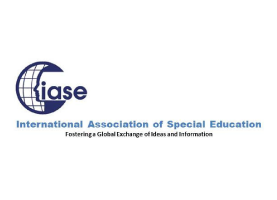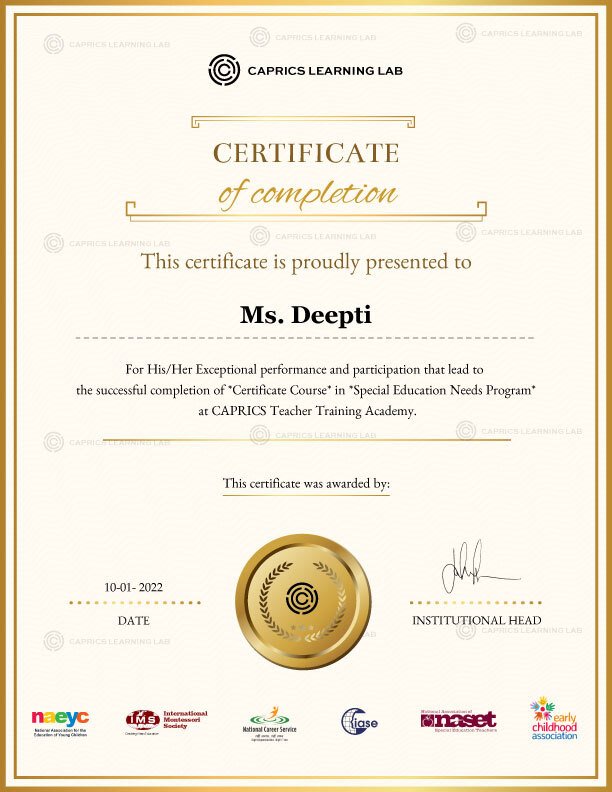 You will have access to a vast array of opportunities if you successfully complete any of the special education professional training programs. Each of these courses aims to cultivate knowledge and provide expertise to keep you one step ahead in the field of education.

The certificates and qualifications will be valuable to those who are opening or planning to open Playschool or Day care facilities or crèches.

This course certificate will not make you eligible to practise as a licensed special educator.